CAE (Certificate in Advanced English)
Descripción del Título Cambridge English
Con el C1, Advanced de Cambridge serás capaz de expresarte en casi todas las situaciones y poder hablar con un buen nivel de fluidez de muchos temas.
Se imparten clases por las mañanas y tardes entre semana y los sábados por la mañana con un horario muy flexible. Con nuestro sistema de bono cada clase que se hace corresponde un examen de práctica, en breve estarás preparado para conseguir el título.
En nuestras clases hacemos mucho hincapié en lo que es la comunicación, nuestros estudiantes aprenden hablando y con diferentes herramientas (tales como el proyector) hacemos las clases más amenas e interactivas con una aproximación más auténtica al examen real.
Se puede hacer el examen de dos maneras; PB – Paper Based o CB – Computer Based. Descarga aquí un ejemplo del PB o sigue el enlace para hacer un examen CB.
Consúltenos para más información acerca de horarios.
Partes de que consta el Examen
Paper

Content

Purpose

Reading and Use of English (1 hour 30 minutes)

8 parts/56 questions

Shows you can deal confidently with different types of text, such as fiction, newspapers and magazines. Tests your use of English with different types of exercise that show how well you can control your grammar and vocabulary.

Writing

(1 hour 30 minutes)

2 parts

You create two different pieces of writing, such as essays, letters/emails, proposals, reports and reviews.

Listening

(about 40 minutes)
4 parts/30 questions
Tests your ability to follow and understand a range of spoken materials, such as interviews, radio broadcasts, presentations, talks and everyday conversations.

Speaking

(15 minutes per pair of candidates)

4 parts

Tests your ability to communicate effectively in face-to-face situations. You will take the Speaking test with another candidate.
Recursos, ejemplos y modelos para Cambridge Advanced CAE C1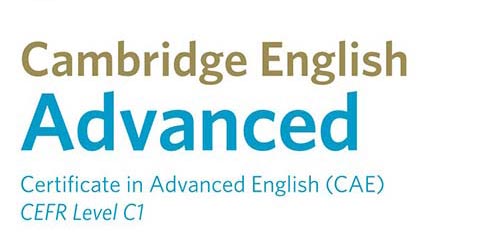 Vídeo de Cómo Funciona
¿Quieres saber más?
Si quieres inscribirte en alguno de nuestros cursos o informarte sin compromiso haz clic en en siguiente botón y ponte en contacto con nosotros.